D
i
y
conservatoryshop.co.uk
-

Tel: 01452226290, Open 7 days till 7pm
Kommerling Diy Upvc Conservatories
Kommerling Made to Measure Conservatories
Kommerling is a German manufacturer of uPVC window and door profiles, with a reputation for quality and durability built over many decades of manufacture. Our Kommerling Conservatory upvc windows and doors use the high-quality Kommerling C70 and O70 Gold system to be sure that our customers' windows and doors will look as good after many, many years of use as they do the day they are fitted. While some upvc window materials may discolour after time, turning pink or yellow as the plastics used break down, Kommerling's window profile will stand the test of time, rosewood and light oak conservatory frames are manufactured using Kommerling 'Lead free' upvc profiles which feature a 20 year colourfast guarantee.
sculptured profile..........bevelled profile......
Kommerling Conservatory Roof Options
We have a wide range of roof options to compliment your Kommerling profile window frames and doors. All roof options are colour matched and from the best manufactureres around, such as : Ultraframe, Wendland, Global, Evolution and K2 We can also supply and fit it for you in certain areas such as Leicestershire, Derbyshire, Nottinghamshire, Warwickshire and Rutland. For other areas please ask
Popular conservatory styles
click on conservatory photos for more info
Glass or Polycarbonate Roof?
Our conservatory roofs are available with 25mm or 35mm polycarbonate in bronze, opal, clear, opal and bronze or heatguard. 24mm double glazed options are Celsius Clear, Celsius 1 and Celsius Elite. Alternatives are Pilkington K and Pilkington Activ double glazed units.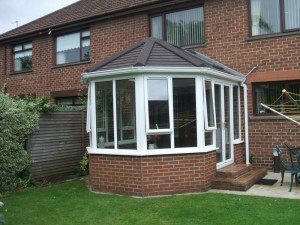 Tiled conservatory roof options
Guardian's tiled conservatory roof is considered to be one of the most established and well developed tiled conservatory warm roof solutions alongside our Supalite and LivinROOF options accessed on the side menu - all are permanent lightweight complete tiled , slated or solid roof options for your new conservatory build . With U values at 0.18u they out perform the latest performance glass with on average 5 times better insulation . it is well worth considering these as a first choice if you want all year round comfort.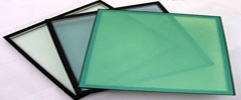 Low E Glazing Options
It is difficult these days to ignore the benefits of low emmission glazing for a well designed and practical conservatory for all year round use - visit our glazing page ( click photo ) to see the benefits and consider the relative low cost of a well insulated conservatory.
Kommerling Orangeries
If you would like to consider an orangery as an alternative to your conservatory scheme, we can incorporate Kommerling doors, windows, patio doors and bi-fold doors into your orangery design with a choice of lightweight orangery roofs from Ultraframe and Evolution.
....Lantern orangeries .... Lightweight orangeries
| | | |
| --- | --- | --- |
| Single Hipped Edwardian | Double Hipped Edwardian | Double Hipped Lantern Type |
Kommerling Colours and woodgrains
All of our Kommerling diy and professional conservatory systems are available in a range of colours and woodgrains including light oak, light oak (outside) on white (inside), rosewood and rosewood (outside) on white (inside).
Kommerling extended colour options
We also offer the Kommerling full range of colours and coloured woodgrain finishes for your bespoke conservatory option.
Durabase Steel Bases
We also supply Durabase steel bases and real brick faced modular wall systems to compliment and speed up your diy conservatory fit. Please access our Durabase dedicated page with installation video.
Free Quotes
Ask for a free Kommerling conservatory online quick quote - it only takes a few seconds to fill in our request and we will send your quote by email - or give us a ring on 01452226290 , or 01162879079 or email us to discuss your project in more detail.
We can also supply and fit it for you in areas such as Gloucester, Cheltenham , Tewkesbury , Bristol . For other areas please ask.
A customers reverse lean to Kommerling / Ultraframe conservatory