Our DIY build kits - What our customers say :
......I would just like to thank you for all your help and co-operation with the planning of our conservatory.....The whole project was a delight to build and we are totally thrilled with the end result.....
M Clark, Clacton.
Just a quick note to say the conservatory was of excellent quality and the installation went perfect with the help of the installation guide which was very easy to understand. Myself and the wife are very pleased with it, so would just like to thank you for your excellent service......
Malcolm M Birmingham

D
i
y
conservatoryshop.co.uk
-

Tel: 01452226290, Open 7 days till 7pm
All solid tiled conservatory roofs - Building Control update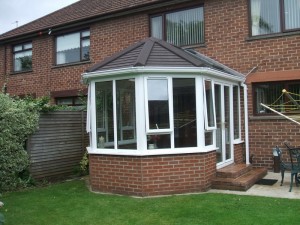 As Building Regulations in relation to solid roof conservatories has become more stringent, we have organised a fast track service through our roof fabricators to provide approval for your supply and fitted tiled conservatory roof and supply only purchase.
Did you know that Building Regulations may now apply to solid conservatory roofs? If your heart just sank at the additional paperwork and hassle that will create, don't panic. we are here to help. That's because we have organised a service with our roof fabricators around the country to provide a fixed cost approval service on installations of the Guardian Roof, available to all customers nationwide from £300 inc vat
The Guardian Roof has Local Authority Building Control (LABC) approval, which is a great advantage compared to other solid tiled conservatory roof systems. This partnership with Building Control Officers also means that our customers can be sure of working with a dedicated officer who is familiar with tiled conservatory roof systems, providing a quick application turnaround, getting access to the expertise needed to provide accurate u value calculations if required, and access to easy payment facilities. This service removes the guesswork and worry about your roof replacement project.
Bruce Carter, Building Control Manager at Rotherham Building Control Consultancy says, "Up until recently conservatories have been limited to having translucent roofs, typically glass or multi-layered polycarbonate, with the drawback of that occupants have to suffer seasonal heat loss and solar heat gain through winter and summer months. The introduction of solid roofs has meant that homeowners can insulate themselves against these seasonal temperature variations, meaning that their conservatories can be a genuinely year round living space. However, the addition of a solid roof means that the former conservatory is no longer deemed to be of light weight construction and is subject to control under the Building Regulations."
Solid tiled conservatory roofs are a revelation to the conservatory market place and have made a real improvement to peoples living space and lives, so it is important to embrace building control changes as a benefit, helping fitters and home owners to understand what is now required. Simplifying this building regulation process means we can make the installation of tiled conservatory roofs a breeze for our customers.