Our DIY build kits - What our customers say :
......I would just like to thank you for all your help and co-operation with the planning of our conservatory.....The whole project was a delight to build and we are totally thrilled with the end result.....
M Clark, Clacton.
Just a quick note to say the conservatory was of excellent quality and the installation went perfect with the help of the installation guide which was very easy to understand. Myself and the wife are very pleased with it, so would just like to thank you for your excellent service......
Malcolm M Birmingham

D
i
y
conservatoryshop.co.uk
-

Tel: 01452226290, Open 7 days till 7pm
Another Diy Prefabricated Home Extension Completed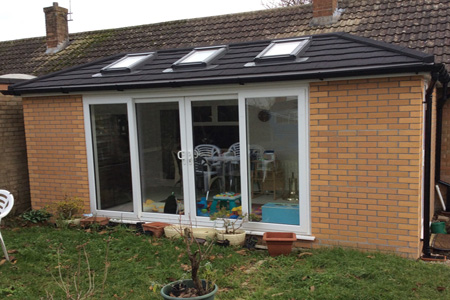 A recent self-build prefabricated extension is completed by our customer
Another successful self build completion of one of our prefabricated extension kits using our Supalite , Durabase Plus and Veka Halo Systems.
We are really pleased also with the result ! - Philip had never built something like this before, but was a good diyer, and enthusiastic to save money by taking on the build himself . It is clear from his email that he and is wife are proud of what they have achieved even though it took a little longer than anticipated due to their small family addition !
An email thanks from our customer after finalising the building regulations certificate through JHAI after completion of his build :
Many thanks for sorting the last part out, very much appreciated. If any body my neck of the woods want to see what this kind of extension looks like, we will gladly show them. As you can see we have a little addition to the family, our son Darwin, everything went into slow mode when he appeared on the scene ! - Philip