We think you will be more than impressed with Evolutions orangery roof. Evolution orangery roofs are pre-fabricated with aluminium, thick insulation, plywood and decorative deep upvc and aluminium facia detailing. Evolution use the latest construction techniques and materials to provide a lightweight sectional roof that is easier to install than heavy untested timber based systems. Evolution also offer training and back-up for your roof installation with in-house technicians, as well as providing generic loading and heat loss calculations for most of their roof spans. .
Specifically developed for the conservatory and orangery installation market, the Evolution IX250 Beam System is in our opinion the best looking light weight aluminium orangery roof system on the market by a country mile. For a complete Evolution orangery roof kit with lantern our Ultraframe lantern addition is hard to beat for quality and design.
Lightweight modular structure– Revolutionary and patented aluminium structural lightweight frame system
Quick build – Construction and installation of the roof is quick and simple ( typically 2-3 days ) eliminating the need for days of cutting and fabrication on site often with low grade timber that warps and moves causing welling of water on the roof.
Manageable sections – No heavy lifting equipment is needed to install the roof as each section is structural aluminium and designed to be manageable on site.
Regs compliant insulation layer – Insulation is incorporated into the roof construction and at 125mm thick it creates a 'warm roof' construction complying with building regulation insulation requirements.
Elegant unique design – The Stylish deep facia design in aluminium and upvc in many colour options and is unique to Evolution
Bespoke design and sizing – Flat roof area and lantern sizes are adjustable to suit your requirements.
Save money on calcs – Generic structural calculations are available free for most roof sizes removing the guesswork often with other roof systems and reducing design costs substantialy.
Colour and woodgrains no problem – Powder coated aluminium or upvc Lantern options in a vast colour range and choice of double glazing low E options.
In-house installation training – training at our fabricators for customers, if required, when first installing an evolution roof - also technicians who can site visit and help with installations.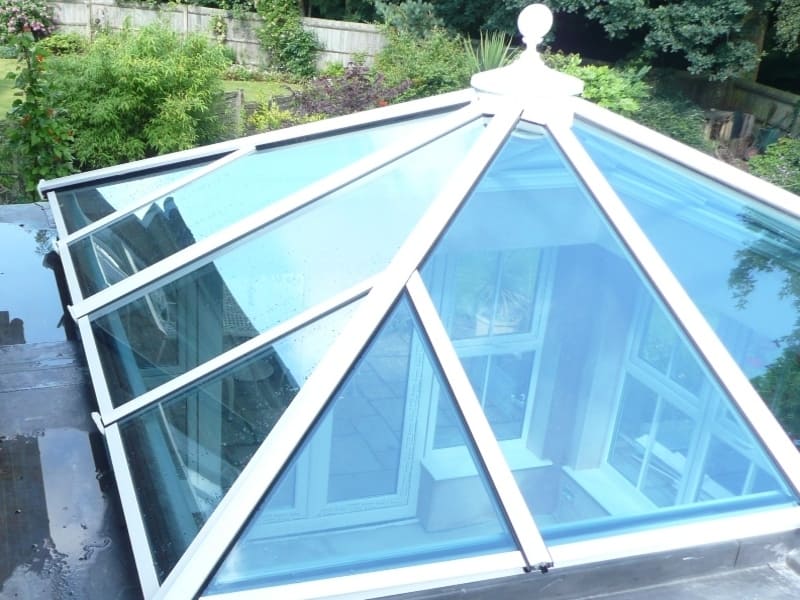 Aluminium
Lightweight structure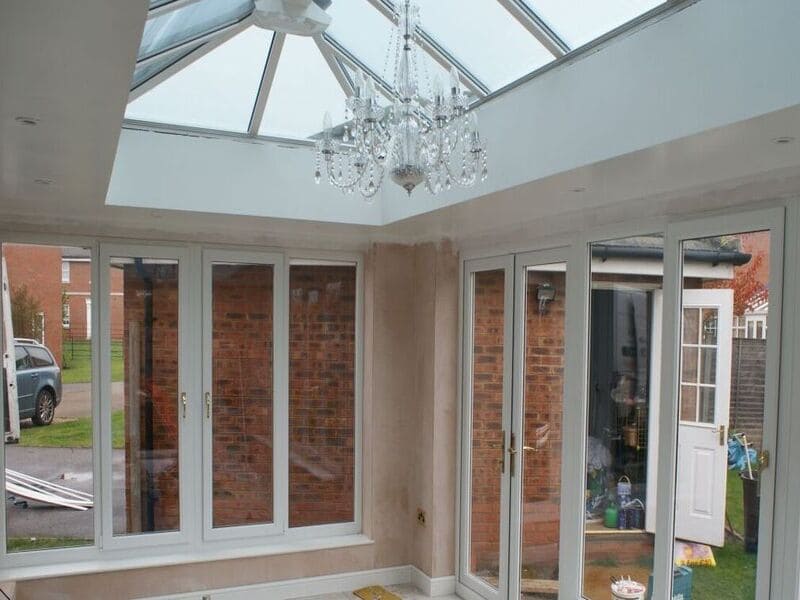 Interior
Adjustable soffits
---
Evolution Extra Information
---
large lantern range - We have a large range of lanterns and skylights to compliment our window and door ranges in aluminium and upvc. Have a look on our main menu roof section at the top
Glass -Low e and self clean options available as well as sun protection with activ neutral and coloured tint options
Upvc or aluminium -We have options for Veka halo upvc patio doors and bifolds in upvc and Aluk or Smart aluminium bifold doors to compliment your Veka Halo windows and standard doors
Durabase steel base and modular wall system We supply Durabase and Durabase Plus - the best steel base and modular wall system to speed up your orangery build with the minimum of fuss and mess
Veka halo available with all of our orangery options - We can supply our orangery systems incorporating Veka windows and doors with our range of orangery roof options from Ultraframe, Wendland , Evolution, DCS6000 and our new DCS3000 low profile flat roof systems. Our roof options are accessed on the top menu.
Veka Halo & Kommerling colours and woodgrains -Veka Halo and Kommerling are available in a range of colours and woodgrains including light oak, light oak (outside) on white (inside), rosewood and rosewood (outside) on white (inside). Popular colours such as anthracite , black and chartwell green are standard as well as a number of other colours and woodgrain options . An extended colour and woodgrain range is also available by special order.
---
Our other orangery ranges
---
We provide an online free quick quote service for all of our ranges accessed on the top menu. If you need to discuss your project in more detail then ring us on 01452226290, or email us on our contact page enquiry form, again accessed on the top menu.