D
i
y
conservatoryshop.co.uk
-

Tel: 01452226290, Open 7 days till 7pm
Beaufort Aluk Aluminium Windows and Doors  
There has been improvements in the ranges of colours offered recently with upvc windows and doors especially with wood grains and wood effect options but there are practical problems that restrict the access to all of these for most builds. There is no comparison however with the limitless colour range freely available with Beaufort aluminium windows and doors.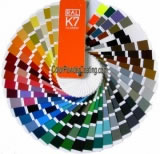 Express yourself in colour
Beaufort Aluk Powder coated aluminium is available in 100's of colours and is only limited by your imagination. The premium for using coloured aluminium instead of white is much less compared to special colours for upvc. having colour on both sides of the frame also does not incur an extra cost compared to upvc.
Limitless Colour for your orangery conservatory or extension
Interestingly It is possible to combine Beaufort aluminium doors, bi-fold doors and windows with Smart, K2 and Ultraframe aluminium clad upvc conservatory roofs and orangery lanterns so that the whole conservatory or orangery is in a solid special colour ,and colour matched throughout.
Strength and elegance combined - aluminium of course
The structural strength of aluminium compared to upvc is much better, allowing for slimmer profiles and more glass, which looks impressive on large full height glazed panels such as patio doors and bi-fold doors.
Beaufort Aluk - worth the extra cost compared to upvc
The base cost of Beaufort Aluk aluminium doors and windows may be more initially but the durability and longevity of aluminium is impressive compared to upvc , proof of this is in the fact that aluminium has  been used extensively for roof manufacture both domestically and commercially in impressive and large scale structures which is a testament to its advantages over upvc for the most demanding engineering requirements and conditions.
Colour matching is easy

We believe that it is important to have all options available to  truly be able to provide the best mix of products for your conservatory or orangery. So it is our opinion that powder coated aluminium doors and windows are an essential option to be able to colour match throughout a project and truly provide an accessible and comprehensive solid colour range.

If you would like more information on our Beaufort aluminium windows and door colour options and ranges  please give us a ring on 01452226290. Alternatively you can ask  for an online quote for your conservatory, orangery or extension project with our Beaufort Aluminium Door and Window Range here.