---
Veka halo & Wendland diy Conservatories
---
We like you to know what diy conservatory system you are buying when you purchase from us, unlike most of our competition !
Our Veka Halo and Wendland diy conservatories, are a German extruded upvc windows and door system. Veka Halo is the range of choice for a vast number of homeowners, architects, and house-builders alike throughout the UK and Europe. The full range of doors, casement windows, tilt & turn and top swing windows are available as part of our diy conservatory build. Our most popular roof option with our Veka Halo window and door system is our Ultraframe Wendland roof, using matching upvc colours and woodgrain foils. You will find it hard to beat this specification for quality and price, so speak to us if you have been quoted alternatives and need unbiased advise on how they compare.
50% off our Veka Halo diy conservatories with current offers - available throughout the UK.
When you choose to buy our Veka Halo windows or diy conservatory it's reassuring to know that they're supported by the largest privately-owned windows systems company in the world. VEKA Group has over 40 years' experience in manufacturing industry-leading uPVC systems, and employs more than 5,200 people in over 35 manufacturing and sales sites worldwide.
Window styles – Veka Halo provide System 10 chamfered and Rustique ovolo profiles - a comprehensive choice to cover most requirements.
Door styles – Patio , Bi-fold, French doors and Composite doors
Window colours – a wide choice of standard colours and extended colour ranges, as well as woodgrains, to suit most projects.
Security –High security multipoint locking with warranties and back up available
Network Veka – As a member our fabricator is dedicated to quality , design and service and is monitored by Veka.
Guarantees – 10 years on our double glazing with warm edge spacer – 10 years on upvc frames, lock upgrades and guarantees available.
Glazing – A wide choice of glazing low E and Argon options, with triple glazing now available in various Low E combinations, to A rating and above.
---
Diy Conservatory Further Information
---
Veka Halo german quality on your doorstep - Veka Halo is manufactured in the UK to the highest standards using the latest CNC automated production machinery . Deliveries are to all UK postal address's twice a week
Glass , polycarbonate , tiled and solid roof options - Our Wendland conservatory roofs to compliment your Veka Halo windows and doors are part of the Ultraframe suite and have a long reputation amongst the trade and discerning customers for quality and design to the highest level. Our Guardian tiled roofs are a popular option now for thermal insulation and much improved all year round use . Our Ultraframe LivinRoof is an interesting alternative to tiled with grey aluminium panels and internal soffits for lighting for an orangery look .
Upvc or aluminium -We have options for Veka halo upvc patio doors and bifolds in upvc and Aluk or Smart aluminium bifold doors to compliment your Veka Halo windows and standard doors
Durabase steel base and modular wall system We supply Durabase - the best steel base and modular wall system to speed up your conservatory build with the minimum of fuss and mess
Veka Halo is available with all of our tiled and solid roof options from popular ranges from Guardian, Supalite and Ultraroof 380, as well as ultraframes Livinroof orangery solid roof option
Veka halo available with all of our orangery options - We can supply our orangery systems incorporating Veka windows and doors with our range of orangery roof options from Ultraframe, Wendland , Evolution and our new DCS low profile flat roof systems. Our roof options are accessed on the top menu.
Veka Halo colours and woodgrains - All of our Veka's diy and professional conservatory systems are available in a range of colours and woodgrains including light oak, light oak (outside) on white (inside), rosewood and rosewood (outside) on white (inside). Popular colours such as anthracite , black and chartwell green are standard as well as a number of other colours and woodgrain options . An extended colour and woodgrain range is also available by special order.
Not sure what style of conservatory for your build project ?
---
Our Durabase steel base and wall systems
---
We supply Durabase's real brick faced modular base and wall system alongside our conservatories to speed up your base and wall build - typically 2 days. These are multi-layered wall systems with galvanised heavy guage steel box formed base and wall construction. Visit our Durabase pages for more detailed information and a construction video.
---
Our other conservatory ranges
---
Veka Halo Conservatories
Veka Halo doors & windows - Ultraframe & Wendland roofs
German system and lowest prices, our customers favourite
More Details
Kommerling Conservatories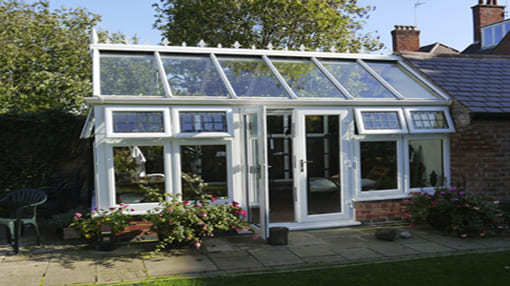 Kommerling doors & windows - Ultraframe & Wendland roofs
German quality and easy fit upvc frame system
More Details
Rehau Upvc Conservatories
Rehau doors & windows - Ultraframe & Wendland roofs
A substantial steel and aluminium build system
More Details
Aluminium Conservatories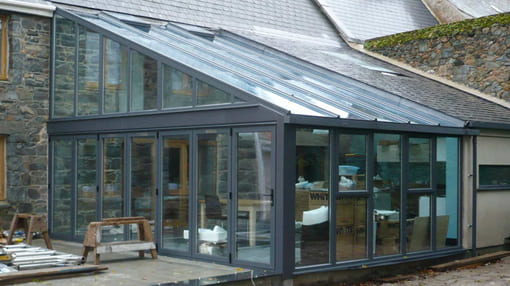 Smart & Aluk doors and windows - Smart aluminium roofs
Our most popular tiled roof system at great prices
More Details
We provide an online free quick quote service for all of our ranges accessed on the top menu. If you need to discuss your project in more detail then ring us on 01452226290, or email us on our contact page enquiry form, again accessed on the top menu.